Use the calculator to expedite an order:
• price your sign letters
• get a real time quote
• send the quote to your email
• purchase letters online
Gemini Sign Letters offers simply spectacular injection molded sign letters that will make your sign stand out. With their sharp, clean edges, uniform consistency, UV light stability and greater thickness, injection molded sign letters are both pleasing to look at and easy to maintain. Injection molded letters are among the most sturdy and elegant which is why municipalities and universities love them.
Injection molded letters are made with all-natural material derived from cotton and wood fibers. Stronger and more durable than acrylic, yet lightweight and very easy to install and maintain, our injection molded letters come with a lifetime guarantee: they will not fade or break.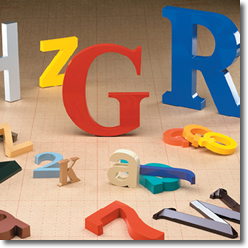 Injection molded letters come in standard colors or custom PMS colors to match your company color scheme. We also provide an installation template for easy assembly. Please contact our sales department for a quote.
Why buy injection molded sign letters?
Choose Injection Molded Sign Letters for a variety of reasons including:
Cost effectiveness
Beautiful lines and font styles
Lightweight, ideal for exhibits and displays
Durable and able to withstand any weather conditions
Easy to install, they can be affixed with either studs or pads
Gemini Signs is an Authorized Reseller for Gemini Incorporated. If you are a sign company, please call them directly.